Huangshan Cloud Valley Cableway TST Online Wire Rope Tester & TST-Viper Wire Rope Lubricator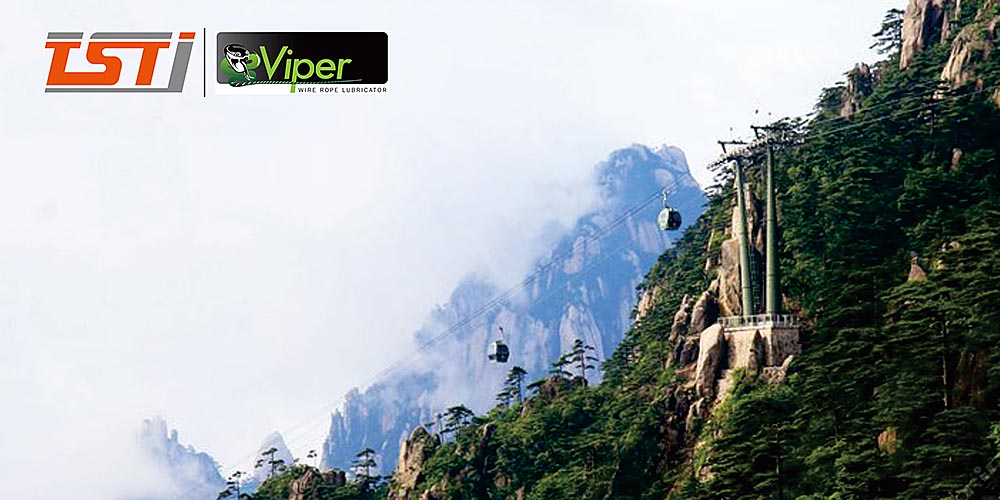 Huangshan Cloud Valley Cableway
Cloud Valley cableway in Huangshan is one of the most popular and busiest amusement cableway sites in China. Tens of Thousands of tourists and hikers visit the Huangshan Mountain Scenic Region and take transportation with this cableway system every day. The height difference is 775 meters between the two terminal stations. Single trip is about 2700m and the system is a single endless rope cableway with on-off rope clips. The steel wire rope is working as the major unit in the system to carry the cable cars and sustain the weights. Therefore, the integrity and competence of wire rope is the No.1 concern to the safety and reliability of the cableway system.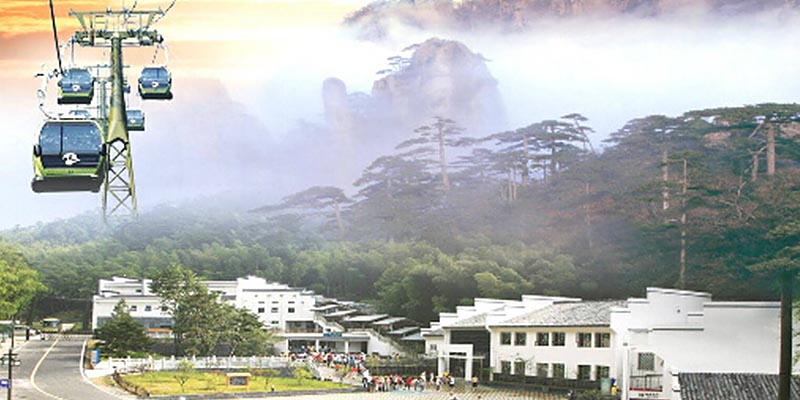 Huangshan Cloud Valley cableway

Cableway Wire Rope Issues
Problems of wire ropes in cableway system mainly attribute to the following aspects:
1.Bending fatigue developed from the cyclic operating pattern
2.Corrosion developed from the humid rainy mountain environment
3.Thunder strikes at random locations due to seasonal weather conditions
4.Twist and torsion developed from unexpected/random incidents
5.Internal wire cuts and abrasion due to lack of lubrication
The role of TST is to help the cableway people identify and measure the severity of wire rope problems and provide solution for further wire rope maintenance and wire rope safety management of. And even better, we make the wire rope inspection and maintenance not only more reliable, but also more efficient and less costly.

TST Online Wire Rope Tester

According to the specific needs and operating scenario of Cloud Valley client, TST develops the Online Wire Rope Tester which is able to: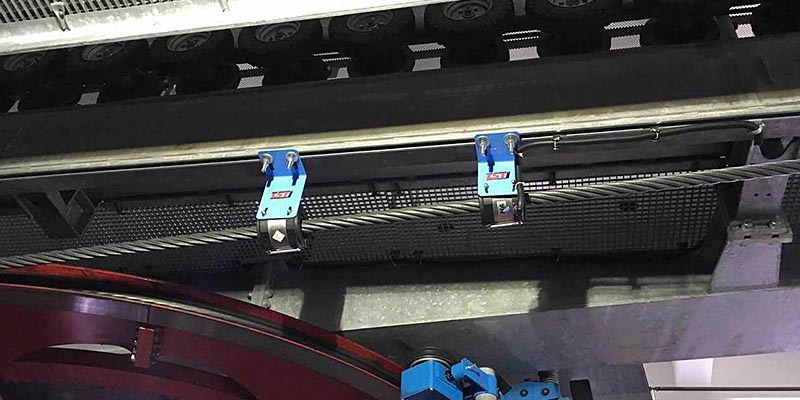 TST Online Wire Rope Tester – T-Detector (Sensor Head)
1.Inspect the operating wire rope 24/7 in real time
2.Implement both local/remote wire rope inspection and diagnosis through Internet
3.Quantitatively and Qualitatively inspect for all kinds of LF/LMA defects
4.Monitor the wire rope inspection process and report daily
5.Alarm on suspicious incidents and events
6.Generate wire rope deterioration trend line and track records
7.Advise on wire rope residual capacity and residual life

TST-Viper Wire Rope Lubricator

TST also provides a solution for wire rope maintenance and automatic lubrication with TST-Viper Wire Rope Lubricator, which is able to: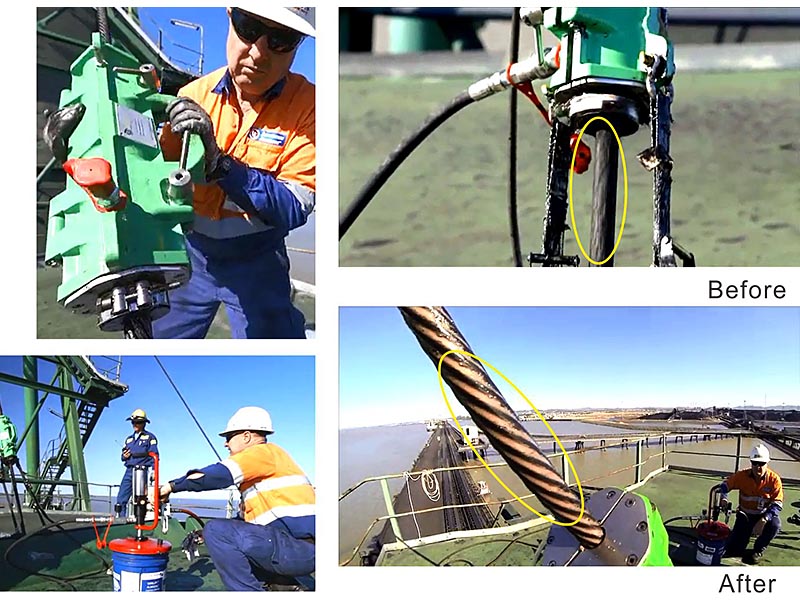 TST-Viper wire rope lubricator working status
1.Automatically clean the old grease, dirt and water on the surface of wire rope in operation.
2.Automatically lubricate the wire rope in operation
3.Ensure sustained internal wire rope lubrication with lubricants penetrated to the core
4.Prolong the wire rope working life

Achievements with TST Solution
Expected safety and economic achievements for Cloud Valley Cableway with TST Wire Rope Inspection and Maintenance Solution:


1.Reliable and efficient wire rope monitoring and safety management by applying online NDT wire rope inspection methods.
2.Complete wire rope deterioration track records to enhance the understanding of wire rope status and residual life.
3.Expected savings in wire rope inspection costs:
32,000 USD/ Annum.(Compared to daily visual inspection procedure + 3rd party inspection service required)
4.Savings from reducing scheduled/unexpected shutdowns: 300,000 - 400,000USD/ Annum(Based on Operation Revenue of 120,000 – 200,000 USD per Day, 10,000 – 20,000 rides per Day)
5.Expected increase in productivity: exploitable extra productivity: 1 Hour/Day
6.Savings in Lubrication Costs: 50,000 USD/Annum (Compared to traditional manual wire rope lubrication time/labor consumption and excessive usage of lubricants by manual wire rope lubrication)
prev: Back To List
next:Back To List