On October 13, 2021,
The
colleagues from the Engineering Department and Business Department of Luoyang T
ST Flaw Detection
Technology Co., Ltd. went to Lingyuan Iron
&
Steel
Group
Co., Ltd. (hereinafter referred to as Linggang) for
free
training on the portable
wire rope
flaw dete
ction system-TST FDSys
for 22mm-42mm wire rope used TSX1142
. The colleagues of
TST
first gave
full
product introduction and technical guidance to the employees of Linggang, and then
make
a
on-site
demonstration
for
the customer, so that the customer could truly master the specific operation of wire rope flaw detection
tester.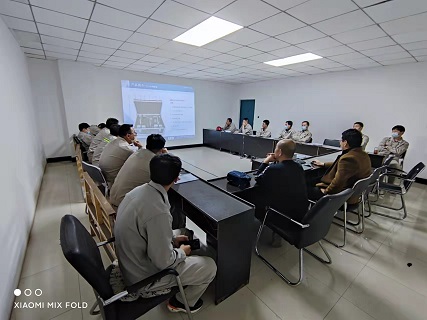 TST Flaw Detection Technology Co., LTD (TST) incorporated in 2010 is specialized in designing, manufacturing and marketing the flaw detection testers for wire ropes and steel cord conveyor belts. TST's mission is to continually develop flaw detection solutions for the safest wire rope operation and the most cost-efficient business outcome for wire rope and steel cord conveyor belt users. With years of experience in the fields, TST realizes that the company's responsibility is not just a technical answer to safety inspection but a comprehensive business solution with full regards of people and environment, which means that our tester must firstly be the keeper of the safe wire rope operations, furthermore our solution should be the enhancer for the business achievements and prosperity.


TST will provide free training for our customer, we can do on-site training and either by webcam or in our factory. And we provide lifelong software update for free.
prev: Portable Flaw Detection System Operation Process
next: The CEO of TST was invited to attend the 9th China Venture Capital Industry Summit